Patios can be a great addition to any outdoor living space. They function as a great place to relax, entertain guests, and enjoy the atmosphere of a well landscaped garden. When making the decision to get a hire a professional paving contractor to lay a patio, one of the most important choices you can make is picking the right type of pavers. Specifically, the colour, shape, texture of the paver as well as a variety of other factors!
In this blog post, we will cover some things you should know about patio pavers to help you make an informed decision when . Looking to see what other paving services we offer at Paving SA? Checkout our full range of end to end services for paving Adelaide.
Paver Patios: Low Cost, Easy Maintenance
Paver patios offer a cost-effective, low-maintenance option for creating beautiful, functional outdoor living spaces. Paver patios are outdoor living spaces created using interlocking concrete or stone pavers. These pavers are typically made from durable materials that withstand the elements and heavy foot traffic, making them an ideal choice for outdoor applications such as bbq areas and paved areas around pools.
One of the main reasons paver patios are low cost is because they are relatively easy to install. Paver patios do not require heavy machinery or specialised equipment, unlike other outdoor surfaces, such as poured concrete or natural stone. This means installation costs are typically lower, which can help keep project costs down.
Additionally, paver patios are low maintenance due to their design and construction. Pavers are placed on top of a base material, such as sand or gravel, which allows water to drain through and prevent damage from freeze-thaw cycles. There is less risk of cracking or other damage to the surface, which can reduce the need for costly repairs.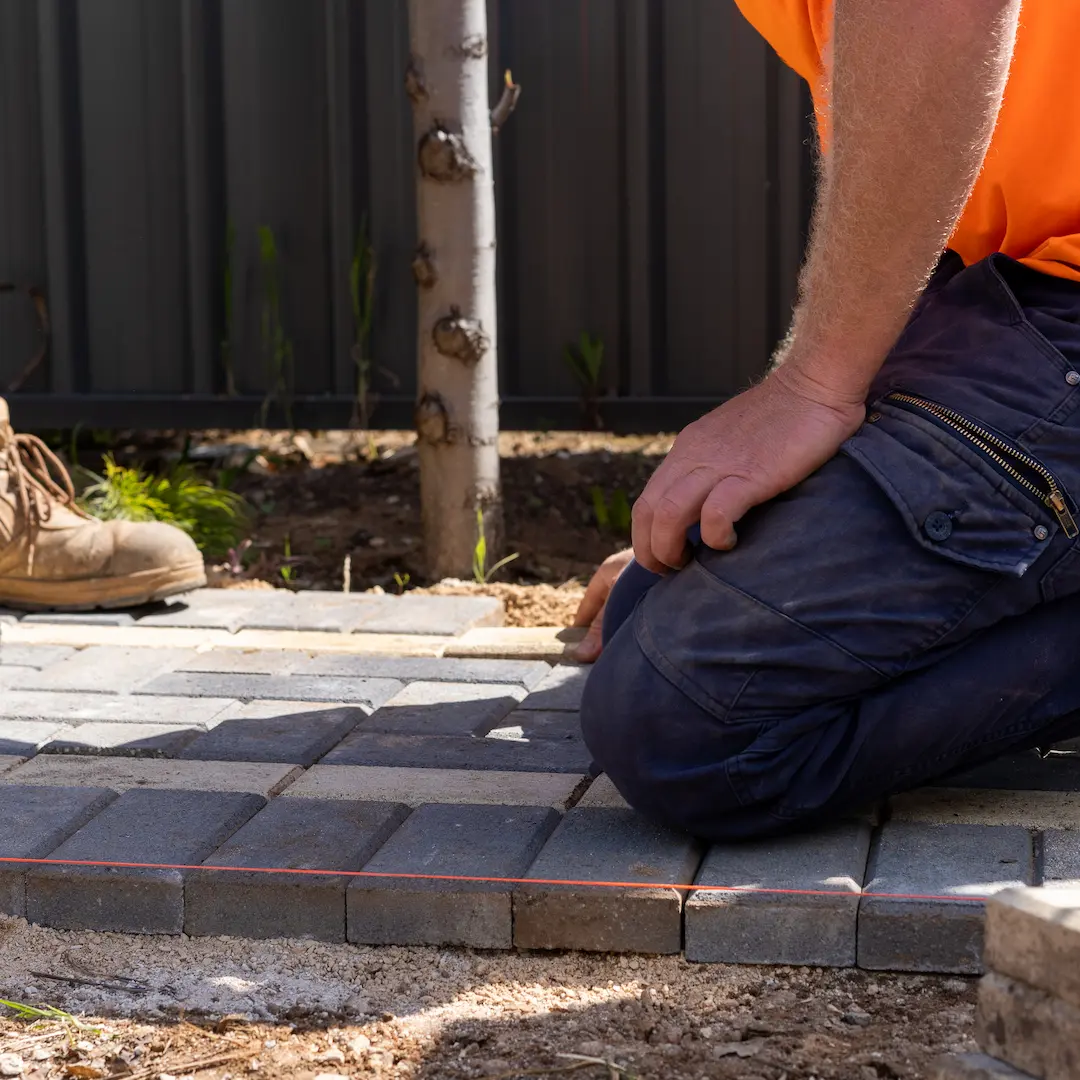 What is the Best Material for Paver Patios
Choosing a material is important to provide a sturdy foundation for your patio pavers and ensure they stay in place for as long as possible. Professional paver installers use a variety of materials, including:
Concrete pavers
Concrete pavers are patio pavers known for their durability and versatility. They are typically created by pouring concrete into moulds, which can be textured or stamped to mimic the look of natural stone or other materials.
Concrete pavers for patios offer several advantages over other materials. They are relatively low cost compared to natural stone or brick pavers, making them a popular choice for homeowners on a budget. They are also easy to install and do not require specialised equipment or heavy machinery.
Brick Pavers
Brick pavers are popular for patio pavers due to their classic and timeless look. They are made from clay fired at high temperatures, making them durable and resistant to weathering and wear. They are typically installed in a pattern, such as a herringbone or basketweave, to create a decorative and cohesive look. 
One of the benefits of using brick pavers for patios is that they are slip-resistant, making them a safe option for outdoor areas. They are also relatively low maintenance and can retain heat, making them a great choice for all climate types. If you're looking for a paving contractor Adelaide, schedule a quote or give us a ring.
Natural Stone Pavers
Natural stone pavers are made from granite, limestone, sandstone, or slate materials.
One of the advantages of natural stone pavers is their ability to retain their colour and appearance over time, unlike other materials that may fade or weather with exposure to the elements. They also require minimal maintenance, occasional cleaning and sealing to protect against stains and weathering.
However, natural stone pavers for patios can be more expensive than other options due to the cost of the material and installation. They may also require specialised tools and equipment for installation, making the process more time-consuming and labour-intensive.
Porcelain Pavers
Porcelain pavers are a type of patio paver made from high-quality porcelain designed to replicate the look of natural stone, wood, or other materials. They are typically made using natural materials and advanced manufacturing techniques to create a durable, low-maintenance paver suitable for outdoor use.
Porcelain pavers for patios offer several advantages. They are extremely durable and resistant to wear, scratches, and fading. They are also non-porous, making them resistant to stains, mildew, and moss growth. This makes them ideal for areas with high foot traffic or exposure to the elements.
Regardless of the materials used, it is important to consider the thickness of the paver and the required depth for digging for a successful installation. Patio pavers need to be on a solid foundation, which makes it important to hire professionals to install pavers so they will last for a long time.
Things to Know Before Paver Patio Installation
Aside from the type of pavers, you will use, here are some considerations when building patios in your home or property.
Cost of Patio Pavers
The cost of patio pavers varies depending on the type of paver, the patio's size, and the installation's complexity. Concrete pavers are generally the most affordable option, while natural stone pavers are the most expensive. It's important to consider the upfront and long-term maintenance costs when choosing patio pavers.
Durability and Maintenance
Patio pavers should be durable enough to withstand the elements and foot traffic and easy to maintain over time. Concrete pavers are durable and require minimal maintenance, while natural stone pavers require more maintenance but are very durable. Porcelain pavers are also very durable and require minimal maintenance.
Design Options
Patio pavers come in various colours, shapes, and textures, allowing you to create a custom look that complements your outdoor space. Choosing the right colour paver is an important decision. Brick pavers offer a classic and traditional look, while natural stone pavers offer a more natural and rustic feel. Porcelain pavers offer a modern and contemporary look.
Installation
The installation process for patio pavers varies depending on the type of paver and the project's complexity. Choosing a reputable contractor with experience with the type of paver you have chosen is important, and they can ensure proper installation.
Safety and Comfort
When choosing patio pavers, it's important to consider safety and comfort. Pavers should be slip-resistant to prevent accidents and comfortable to walk on, especially if you plan to use your patio for extended periods.
Conclusion For Picking Patio Pavers in Adelaide
If you're considering a patio project, choosing the right pavers is crucial to achieving your outdoor living space's desired look and functionality. At Paving SA, we are the first choice for paving contractors Adelaide. We offer a wide variety of high-quality patio pavers that will meet your needs and exceed your expectations. We offer a range of patio pavers, including concrete, brick, natural stone, and porcelain, and we will work with you to choose the right type of paver for your needs and budget. At Paving SA we also provide driveway paving services! Contact us today to learn more about some of the advantages your property could reap with driveway paving.
Contact us today to learn more about our patio paver options and how we can help you create the outdoor living space of your dreams.