The driveway is one of the most important features of your property. It's the first thing people see at your home and the gateway to your oasis. But when choosing a driveway paving contractor, many homeowners need help figuring out where to start.
The truth is not all driveway paving contractors are created equal, and choosing the wrong one can lead to a shoddy installation, which can cost you time and money in the long run. That's why it's important to take your time and consider several factors before deciding.
Here, we'll explore the key factors when choosing a driveway paving contractor. From their experience and reputation to their pricing and communication skills, we'll give you all the tools you need to make an informed decision. 
So if you're thinking about having your driveway paved, keep reading – this post is for you!
The best way to choose a paving contractor, is to consider factors such as exceptional quality, reasonable pricing, skilled installers, and a reliable warranty. Investing the necessary time and effort in making a wise hiring decision is essential to ensure the value of your property.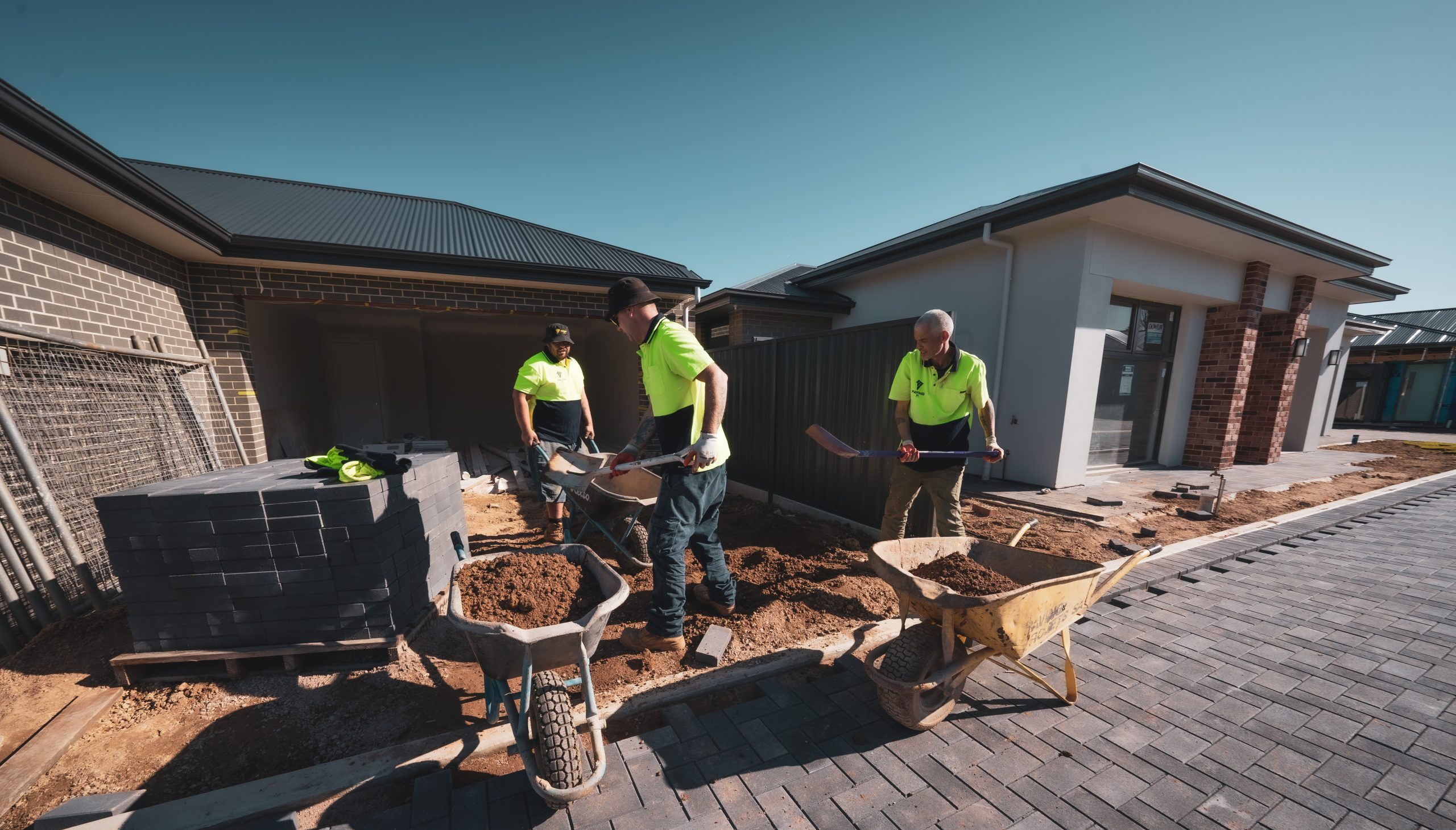 5 Qualities To Look For In An Driveway Paving Contractor
When choosing a driveway paving contractor, there are various factors to consider. However, five key qualities can significantly affect the quality of the work performed and your overall satisfaction with the project. 
Here are the top five qualities to look for in a driveway paving contractor:
Experience
Experience is an important factor to consider when choosing a driveway paving contractor because it can greatly impact the quality of the work performed. An experienced contractor will have the knowledge and expertise necessary to navigate unexpected challenges during the project, such as adverse weather conditions or unforeseen issues with the terrain. They will also have a better understanding of the various paving materials and techniques available and be able to recommend the best options for your specific needs and budget.
Additionally, an experienced contractor will have a portfolio of previous work that can demonstrate their abilities and give you an idea of what to expect from your project. You can see examples of their workmanship and attention to detail and get a sense of their overall aesthetic style. This can help ensure that the finished product meets your expectations and enhances the curb appeal of your property.
Reputation
Choosing a contractor with a good reputation ensures that your project is completed to your satisfaction and that you are treated with respect and professionalism throughout the process. It can also help you avoid potential issues, such as delays or poor workmanship, that may arise with a contractor who has a less-than-stellar reputation.
By researching a contractor's reputation, you can better understand what to expect from working with them. Read online reviews and testimonials from previous clients, which can give you an idea of how satisfied others have been with their work. 
Also, check their rating with any professional organisations they may belong to, indicating their professionalism and commitment to excellence.
Pricing
While choosing a contractor who offers competitive pricing is important, it's also important to remember that the lowest bid is not always the best option.
A low price may indicate that the contractor needs to cut corners on materials or workmanship, which can lead to issues down the line, such as premature cracking or crumbling of the pavement. On the other hand, an overly high price doesn't necessarily guarantee high-quality work. A contractor may overcharge for materials or labour or take advantage of the fact that you are unfamiliar with industry pricing standards.
When considering pricing, looking for a contractor who offers fair and transparent pricing is important. They should provide you with a detailed breakdown of all costs associated with the project, including materials, labour, and any additional fees. This can help you decide whether the price is reasonable for the work being performed.
Communication
Effective communication helps to ensure that everyone is on the same page, that there are no misunderstandings or surprises, and that any issues or concerns are addressed promptly.
Good communication begins with the initial consultation, where the contractor should take the time to listen to your needs and provide you with a clear understanding of the process and timeline for the project. 
Throughout the project, the contractor should keep you informed of progress, timeline changes, and unexpected challenges. They should also be accessible and responsive to your questions and concerns through phone, email, or in-person meetings.
Licenses and Insurance
A valid license demonstrates that the contractor has met the necessary qualifications and has been approved by the relevant governing bodies to work in their area of expertise. Verifying that the contractor's license is valid and in good standing is important. This can help prove that they have the necessary knowledge and experience to complete your project to a high standard.
Insurance is also an important consideration when choosing a paved driveway contractor. Accidents can happen, and you want to be sure that you are protected in the event of property damage or injury on your property. A reputable contractor should have liability and workers' compensation insurance to protect themselves and their clients in an accident or unforeseen circumstances.
Choosing a properly licensed and insured contractor can provide peace of mind and protection for you and the contractor. It also demonstrates that the contractor is committed to operating professionally and responsibly and taking their responsibilities seriously.
At Paving SA, we are committed to excellence and providing results!
If you're searching for a reliable, experienced, and reputable driveway paving contractor in Adelaide, look no further than Paving SA. Our team of experts has been providing high-quality paving services to satisfied clients for many years, and we take pride in delivering exceptional workmanship and customer service.
Focusing on quality materials, attention to detail, and clear communication, we ensure that every project is completed to the highest standards, on time, and within budget. We offer various services, from new driveway installations to repairs and resurfacing. Whether you're in need of driveway paving for heavy vehicles or just a general residential paved driveway, we are the paving company for you! We are committed to customising solutions that meet our client's unique needs and preferences. With so many factors to consider, you may be wondering, is driveway paving worth it? With our professional expertise and workmanship, the answer is always yes!
At Paving SA, we are fully licensed and insured, providing our clients peace of mind and protection. We also offer competitive pricing and a satisfaction guarantee, ensuring they are completely satisfied with the finished product.
Contact us today to schedule a consultation and learn more about our services.